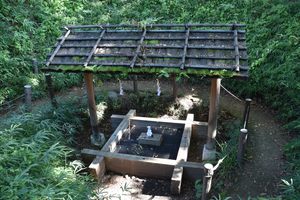 The Tama area, which consists of 30 cities and towns west of the 23 special wards of Tokyo, lies in the Musashino Plateau region overlooked by mountains, a stark contrast to the metropolitan capital despite the mere one-hour distance from Shinjuku.
Historically, villages in the Musashino Plateau had a lot of trouble getting water from underground, as much of the region's soil was loam and too fragile to dig down while the veins of groundwater were particularly deep in the area. To solve this problem, the region developed a unique type of well called maimaizu-ido, which means "snail well" in the Tama dialect.
To build a maimaizu well, one has to dig a spiral pit first and create a path leading down, bypassing the layers of soft loam, before finally digging vertically at the bottom to strike water. Because of this practice, horikane-no-i ("well of difficult digging") was a poetic epithet associated with the Musashino region in the early Middle Ages.
In the city of Hamura, a snail well was built outside Gonokami Shrine in the medieval Kamakura period, at some point between the 13th and 14th centuries, though local legend claims that it was built circa 806-810. For many centuries, it provided water for the village around it, restored in 1741 and continuously used until 1960.
Designated by the prefecture as a historic site, the restored Gonokami Maimaizu Well is a stunning monument spanning 16 meters (17.5 yards) wide in diameter and 4.3 meters (14 feet) deep, circling twice before reaching the bottom, where the well sits unused but in all its former glory.