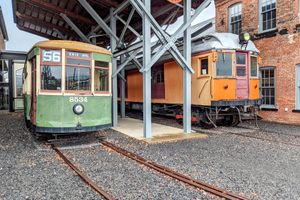 Scranton, Pennsylvania is known as "The Electric City." In 1880, Scranton became the first United States city to be lit by electricity and run a transit system made up of electric streetcars. Before the automotive industry decimated interurban trolley systems, they were prevalent throughout the northeastern and midwestern United States. Interurban electric trolleys provided a reliable form of transit. They were seen as modern and desirable during the late 19th and early 20th century, but by the 1950s few interurban electric trolleys remained in operation in the U.S.
The Electric City Trolley Museum in downtown Scranton illustrates the history of electric streetcars and the role they played historically in urban development. The museum has many exhibits, dioramas, and old electric streetcars. 
The museum was started in New Jersey in the 1960s. The museum has moved multiple times throughout its history; from rural New Jersey townships (where residents were less than thrilled to have trolleys running through their towns), then later to Philadelphia, where ongoing development on the city's waterfront forced the museum to move. In 1996, the museum moved to its current location. During the summer the museum offers trolley rides along a former interurban line.