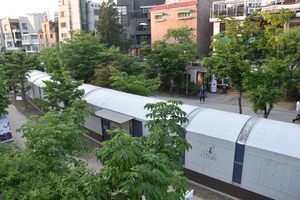 Chaekgeori is a unique genre of still-life painting that flourished during the Joseon dynasty of Korea, especially under the reign of Emperor Jeongjo (1776-1800). Typically, it depicts bookshelves full of "books and things" (chaekgeori), a pleasant eye candy to bibliophiles of all ages.
It was also a thematic inspiration behind the Gyeongui Line Book Street project in the Mapo district, intended to be a multipurpose cultural hub utilizing books to enrich people's lives. Another inspiration was the Hongdae neighborhood surrounding it, an area with a high concentration of publishers in the past.
The vibrant Book Street runs for nearly four miles along Gyeongui Line, on the disused railroad tracks converted into a scenic promenade. It's home to fourteen bookshops specializing in different themes and genres, all housed in train-shaped booths.
The promenade, a popular haunt among locals, also boasts a collection of book-themed public artworks, such as the statue of a girl standing on a library ladder and picking a book from the shelf.
Hip, refined, and relatively peaceful, Book Street is an intellectual oasis in the metropolitan hubbub of Seoul, perfect for solo walks, cute dates, or simple biblio-shopping.