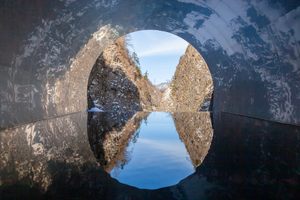 The Kiyotsu Gorge has been appreciated as a site of natural beauty for many decades, but its popularity is only a recent development, thanks to an art installation that turned its panorama into a fantastical vista into another world.
The pedestrian tunnel was constructed in 1996 to respond to the demand of locals and tourists who wished to see the Gorge better, as the hiking route had been closed off due to a lethal rockfall accident in 1988. The tunnel stretches on for about half a mile, with three observation points midway and the "panorama station" at the end.
Described by some as "nothing but a boring tourist trap," the tunnel's popularity kept going downhill, the number of visitors steadily decreasing over the years. In 2018, however, it was chosen as one of the hundred-odd locations hosting the triennial Echigo-Tsumari art festival, with Chinese architect Ma Yansong of MAD Architects fame in charge of its artistic makeover.
The permanent art installation, "Tunnel of Light," is nothing excessive that gets in the way of the panorama, but compliments the outstanding nature. Consisting of stainless steel walls and a thinly flooded floor, it creates a dreamlike reflection of the mountains beyond. Thanks to this Instagram-perfect feature, the number of visitors to the Kiyotsu Gorge more than quadrupled after the tunnel was revamped. Though not as widely known internationally yet, it may be just a matter of time until it becomes one of the top tourist attractions in Japan.