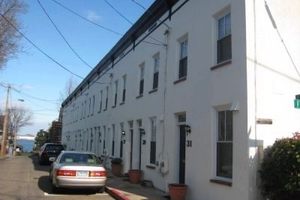 These 10 rowhouses were built in 1888 by Charles James Murphy for laborers employed at his company, the Annapolis Glass Works.
The houses bear witness to Eastport's early years. The seventh house was the first post office in the new community, which Murphy named after his hometown in Eastport, Maine. When the glass factory closed in 1902, Murphy's Row fell into disrepair.
In the early 1980s, the properties were redeveloped and sold as private residences. They are Eastport's only remaining example of the 19th-century rowhouse style.