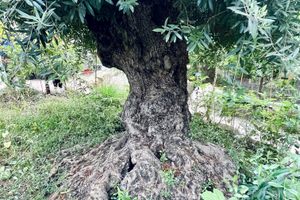 Tucked away within the enchanting grounds of Jeppa S Trädgård in Osby, Sweden, the country's oldest olive tree stands as a testament to the unexpected marvels of nature. This extraordinary olive tree, believed to be between 500-700 years old, defies its geographical limitations.
The tree belongs to the Hojiblanca variety, one of the 262 olive varieties cultivated in Spain and among the approximately 700 olive varieties found worldwide. Hojiblanca olives are utilized both for pickling and the production of olive oil. This particular tree originates from the Elche region in southern Spain.
Jeppa S Trädgård itself is a nine-acre botanical haven, featuring greenhouses representing various climatic zones, including tropical, Mediterranean, and a recently added subtropical greenhouse spanning more than 500 square yards.
The garden also houses a specialized plant shop offering a diverse selection of fruit trees from temperate, subtropical, and tropical regions. Visitors can enjoy refreshments, including coffee and ice cream, within the greenhouses. Additionally, the garden boasts a rhododendron collection of approximately 850 plants and a range of unusual trees, including the mammoth tree, bread fir, variegated beech, ginkgo, and aralia, scattered across the meadow and forest edges.