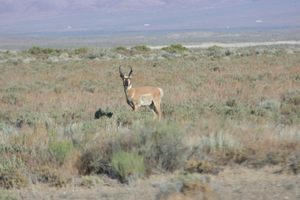 The pronghorn antelope, which is not a true antelope, is unique to North America and is the sole surviving representative of a separate group of ruminants. They were hunted nearly to extinction—it's estimated that there were only about 14,000 individuals left by 1914. Due to extensive conservation efforts, the species has recovered, with around a million animals alive today.
A major factor in the pronghorn's recovery was the establishment of dedicated wildlife refuges in the early 20th century. The largest was the Sheldon Antelope Refuge in the northwest corner of Nevada next to the Oregon line. It began with the purchase of 34,000 acres at Last Chance Ranch in 1931. In 1936, President Roosevelt added over 540,000 adjacent acres of Federal lands, with the total acreage combined into a single wildlife refuge. At present, the refuge is managed in conjunction with the smaller Hart Mountain Antelope Refuge in Oregon, which was created at the same time.
The Sheldon Refuge consists of high desert steppe, including tilted tablelands and deep canyons (such as Thousand Creek Gorge, which overlaps the refuge slightly on the east side). It encloses the Virgin Valley opal mines, which were grandfathered in. Virgin Valley is also the site of the current refuge headquarters, as well as the Dufurrena Ponds, which provide waterfowl habitat and are open to fishing with a Nevada license.
The Last Chance Ranch was the original heart of the refuge, and indeed served as the headquarters in the early years. The ranch building is still preserved as a historical site.