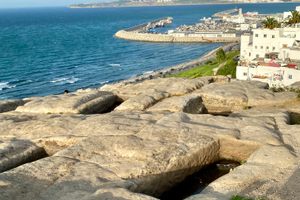 Just outside the walls of the Tangier Kasbah is this Punic Roman necropolis. Surrounded by the breathtaking scenery of the Strait of Gibraltar, there are 98 tombs in this necropolis, more than 50 of which are carved into the rock.
Along with Roman artifacts from various eras, tools from the Punic and Neo-Punic traditions were discovered inside. The final period of the cemetery's habitation began at the end of the 4th century BCE.
For housing a cemetery of 98 tombs, of which more than 50 are carved in coffered rock, the holes in the ground have managed to withstand the passing of time. The necropolis is also a meeting place that enriches social coexistence—widely frequented by residents of the city and tourists that want to enjoy a fantastic view.