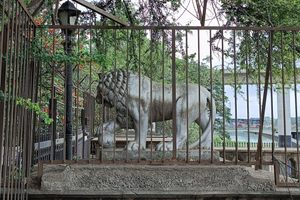 The FitzGerald Bridge, also popularly known as the Bund Garden Bridge is an important crossing over the Mula-Mutha river in Pune. Named after Sir William Robert Seymour Vesey-FitzGerald, the erstwhile Governor of Bombay (now Mumbai) from 1867 to 1872, it was designed and constructed by Captain Robert S. Sellon of the Royal Engineers.
Work commenced in 1866 and was completed in 1867 at a cost of 241,800 Rupees. It was the first spandrel arch bridge in Pune and was formally opened to the public in 1869. On both sides of the bridge, there are statues of two lions looking to the side holding a sphere under a paw. These are representations of the Medici Lions at Villa Medici in Rome.
Today, the bridge is closed to vehicular traffic and has been converted into an arts plaza, with seating arrangements and an open space. One can spot the iconic lions from both ends of this heritage structure. They have withstood the test of time and are the proud guardians of this slice of history.