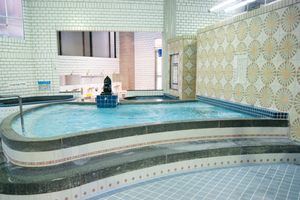 Radiation is generally seen as a dangerous thing and exposure to it should be minimized. But this hasn't always been the case. In the past radium was seen as a healthy thing and was used in many products. Some of these products remain to this day, like the Japanese radium onsen, where bathing in radium water is believed to be healthy.
Radium onsen is one of the oldest bathhouses in Osaka, dating back to 1952. Apart from a traditional hot bath, they also have a carbonated bath, a cold bath, an electric bath where bathers are shocked with a low amp current.  The infamous radium bath is located outside. The radium ore in the bath is sourced from a now-closed mine in Ningyotoge. Fortunately, the dose is not strong. (Depending on how long you stay in the water, you might get more radiation exposure from flying.)
The water is said to cure all kinds of aches and diseases and is popular with older people for this reason. The onsen even suggests drinking it for added medicinal value, which is much more dangerous in terms of radiation exposure. Nevertheless, no death has been attributed to the onsen.