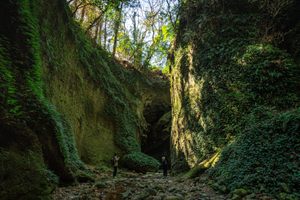 Blink and you might miss the entrance to this 40-meter-long cave, where you can spot fossilized shells embedded in walls. About 3 million years ago, the cave and steep canyon walls were carved out by ocean waves, although the green lushness that awaits at the end of the tunnel these days feels more like a scene out of Jurassic Park than an underwater seascape.
The steep canyon walls create a valley full of hairpin turns that open up at the other end of the cave. They are completely covered with a thick layer of tropical ferns. The temperature here remains around 20 degrees Celsius all year, making it not only a cool escape from Kochi's balmy summers, but also the perfect spot for over 40 species of fern to thrive. The sheer quantity and diversity of the plant life were recognized as a National Natural Monument in 1915.
The 30-minute walk along the little river that runs along the bottom of the canyon and over the rustic little bridge,  with sunbeams breaking through to illuminate the bright green, curly ferns, along with the total quiet, make the Ioki Cave feel like a sacred space, and are reminiscent of scenes from Ghibli movies. There are three waterfalls, with the largest tucked away at the end of the trail, the water collecting in a green-blue pool basin.
Unlike many Japanese natural beauty spots, which are often depressingly paved with concrete to make walking paths, the adjustments here are minimal. Be sure to bring sturdy shoes (or borrow some rain boots from the nearby visitor's center) to protect your feet from the damp and the occasional snake.